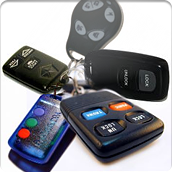 Over the last twenty years or so the security levels on new vehicles has risen dramatically in the UK. With vehicle manufacturers fitting a much higher standard of locks and the introduction of transponder systems, so your vehicle is more secure from theft than ever before. The unfortunate side effect is that should your keys be lost or stolen you may have a problem replacing them.
Keys for your vehicle now have to be programmed to the individual Engine Control Unit (ECU) system to enable them to function. This means that unless your locksmith has had specialist training and purchased the up-to-date technology required he/she will not be able to help you.

However our locksmiths have received that specialist training and are skilled at non-destructive vehicle entry (no damage to your vehicle) and this includes deadlocked vehicles.

All our vehicles are fitted with ECU and transponder vehicle key equipment that is updated on a regular basis. Enabling our locksmiths to cut and programme functioning keys for the vast majority of vehicles in our vans at the roadside.
If you need spare or replacement keys we can assist you even if your vehicle has remote control or transponder keys. With or state-of the-art technology we can do this at the roadside even if all your existing keys are lost/stolen.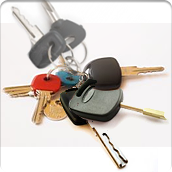 Transponder keys what are they?

Your vehicle key has a radio-chip imbedded into it that communicates a code to your on-board computer.
Without this code being received the engine will fail to respond and consequently fail to start.

Our specialist training and equipment allows us to communicate with these on-board computers and programme the new/replacement keys with the code that allows them to work properly.

The majority of modern immobiliser systems require a pin code as an extra security precaution preventing access to the immobiliser's computer. This would prevent the proper coding of new/replacement keys.

However our specialist equipment allows us to acquire this code ensuring your new/replacement keys are supplied quickly and accurately.

The following is a list of manufacturers that we specialise in:
Audi
Citroen
Daewoo
Fiat
Ford
Honda
Lexus
Mazda
Nissan
Opel
Peugeot
Rover
Seat
Skoda
Suzuki
Toyota
Vauxhall
Volkswagen
Please do not panic if your vehicle is not included simply contact us when you provide the make, model and year we will be able to inform you of the services we can provide.