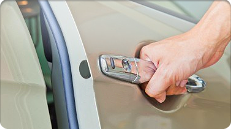 Specialist Vehicle Access - Keys, Transponders & Immbolisers
Our Auto Locksmith services are available 24/7. Our technicians specialise in all makes of vehicle locks, ignitions, immobilisers, key cutting and lock picking. They are fully mobile and operating in your area now.
Our engineers are NCFE qualified, and have the latest equipment for on-site programming of immobilisers and coding and pre-coding vehicle keys. We are able to read pin codes, and if necessary desolder Eeprom from within the immobiliser in order to read it. Our service is not only friendly, it is also first class and professional
We can program keys quickly and in many cases simply clone the key that you have to provide an exact replica so that you never have to worry about losing your only key.
We are able to program the ECU and immobilisers fitted to most types of vehicles, thereby enabling us to add and delete keys as necessary, such as in the event of stolen vehicle keys.
Our engineers carry many spare keys and transponders meaning that most jobs can be completed on the first visit, without the need to book a revisit due to waiting for parts.
The greatest benefit to using our Auto Locksmiths, besides the obvious advantage of price over main dealers, is that our team have all the tools to cut all key types in their mobile units.
Our work is backed up by a guarantee. If we cannot do the work, there is no charge!